Dump truck driving in Cleveland Ohio hits bridge and causes line up on I-77.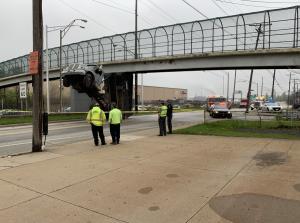 According to spectators, the dump truck was driving with its bed raised, causing the truck to wedge itself into the bridge.
The driver suffered from 10 broken ribs, and was cited for failing to yield.
Video of dump truck hitting bridge
You can watch as the truck wedges itself into the bridge below.
US Bridge Hit Effects on Business Owners
Bridge hits are not an uncommon occurrence in the US. They can cause millions in damage repairs per year to both the bridges themselves and to fleet vehicles.
With Bridge hits causing such severe damage, trucks involved with these accidents often require specialized repair shops focused on heavy duty collision repairs.
Fleet Fast Damage Repairs
Fleet Fast supplies Fleet owners and managers with reliable damage repairs for most medium duty and heavy duty vehicles.
Bridge hits are one of the many repairs that Fleet Fast has been performing for nearly 50 years.
Has your dump truck or other heavy duty truck been a victim of a bridge hit? Call us today at (330)773-9597 and we'll get your truck back on the road.. Fast
or submit a repair inquiry on our Quick Quote page. We'll have an estimate back to you within 24 hours of contact.
Fleet Fast, We keep your trucks on the road.