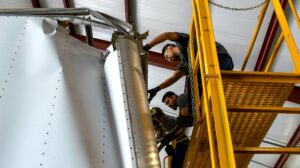 Title: Expert Box Truck Damage Repairs in Akron, Ohio and Surrounding Areas
When it comes to keeping your box trucks in top-notch condition, there's no room for compromise. Fleet Fast, your trusted box truck repair shop in Akron, Ohio, offers comprehensive repair services, including specialized roof, floor, and rear roll-up door repairs, to ensure your fleet stays on the road.
Roof Repair Expertise
Box trucks face a variety of challenges, from bridge hits to branch impacts and corner cap damages. At Fleet Fast, our skilled technicians are experts in box truck roof repair. Whether it's structural damage or wear and tear, we've got you covered. We use high-quality materials and cutting-edge techniques to restore your box truck's roof to its optimal condition. Our goal is to extend the lifespan of your fleet and minimize downtime.
Floor Repair Solutions
A damaged floor in your box truck can lead to safety hazards and compromised cargo. Fleet Fast specializes in box truck floor repair, addressing issues such as holes, forklift damages, and wood rot. Our experienced team assesses the damage and provides efficient, cost-effective solutions to restore the integrity of your box truck's floor. We understand the importance of cargo security and driver safety, and we're dedicated to delivering results you can rely on.
Rear Roll-Up Door Repairs
Rear roll-up doors are vital for efficient cargo loading and unloading. Damage to these doors, whether from forklift incidents or worn-out rollers, can disrupt operations. Fleet Fast offers comprehensive rear roll-up door repair services to ensure your box trucks' doors function smoothly. Our technicians are equipped to handle various door-related issues, minimizing downtime and ensuring cargo security.
Serving a 100-Mile Radius of Akron
Whether you're based in Akron, Canton, Cleveland, Youngstown, Bedford, Oakwood, Richfield, Pittsburgh, Erie, Warren, Cuyahoga Falls, Stow, Barberton, or Boardman, Fleet Fast is your local partner for box truck repairs. Our strategically located facility in Akron allows us to serve businesses throughout the region promptly. We pride ourselves on quick turnaround times, minimizing disruptions to your operations.
Why Choose Fleet Fast?
Expert Technicians: Our skilled technicians are trained in the latest repair techniques and technologies, ensuring top-quality workmanship.
Quality Materials: We use only the best materials and parts for every repair, ensuring the longevity of your box truck.
Dedication to Downtime Reduction: We understand the importance of keeping your fleet on the road. Our fast and efficient repairs minimize downtime.